Bad Credit Financing in York, PA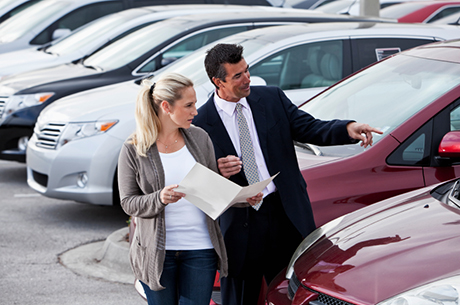 What Is Bad Credit Financing?
Have you recently been turned away by a prospective lender due to your less-than-reputable credit evaluation? We at Thornton Automotive are here to redefine the auto financing experience by providing loan options to our customers no matter what their financial standing looks like. Pair that with our top-notch pre-owned options, and you won't feel like you are settling for less when you shop with our family of dealerships.
Bad Credit Financing
We understand that life can sometimes have some unexpected twists and turns, but we believe that shouldn't hold you back when it comes to finding a reliable vehicle you can take pride in. With bad credit financing, we will work with you to find a loan plan that digs you out of the hole that you are currently in. We work with all types of credit histories too, so you won't have to worry about being denied for your potential auto loan. And, to keep you from going down a similar path, we will set up a financing term that allows you to pay off your vehicle in a manageable manner that doesn't cause financial hardship. To give you greater insight of what your plan might look like, crunch some numbers within our Payment Calculator!
Tips
We want to set you up for success, which is why we have a few recommendations to put you back in control of your finances with your pre-owned auto purchase. To start, we highly recommend setting a budget by going over your housing, bills, food, and essentials that you require on a monthly basis. Subtract that from your income, and the remaining value can be put toward the vehicle you wish to add to your driving lineup. Then, we suggest that you go over your daily driving needs to determine what type of body style fulfills your requirements. For instance, if you usually carpool the kids to practice, then you might want to consider an SUV. Or, if you want to save on gas for your commutes, then you can't go wrong with a compact option!
Online Tools
Fortunately, we allow you to accomplish most of your research from home, so you can set your budget and find a vehicle that makes sense for your requirements. To start, use the Pre-Owned Inventory dropdown to start sorting through everything on our lot with ease. Then, you can take the value of each model and your down payment and input them into our online calculator to see how much you will spend on a month-to-month basis. Once that is accomplished, you can move on to the Get Pre-Approved form to receive your thumbs up in the loan process. Once the aforementioned steps are completed, you can complete the Finance Application. Doing so allows us to get in touch with our trusted lenders for loan packages!
Take advantage of bad credit financing in York, PA, today at Thornton Automotive. We have several locations, so drop by the dealership nearest you at your earliest convenience.

York Sales Hours
717-840-0400
| | |
| --- | --- |
| Monday | 9:00 am - 7:00 pm |
| Tuesday | 9:00 am - 7:00 pm |
| Wednesday | 9:00 am - 7:00 pm |
| Thursday | 9:00 am - 7:00 pm |
| Friday | 9:00 am - 6:00 pm |
| Saturday | 9:00 am - 4:00 pm |
| Sunday | Closed |
Testimonials
GOOGLE
7-2-2020
GOOGLE
7-2-2020
GOOGLE
7-2-2020
GOOGLE
7-2-2020
GOOGLE
6-29-2020
GOOGLE
6-29-2020
GOOGLE
6-22-2020
GOOGLE
6-19-2020
GOOGLE
6-18-2020
GOOGLE
6-16-2020
GOOGLE
6-16-2020
GOOGLE
6-11-2020
GOOGLE
6-11-2020
GOOGLE
6-11-2020
GOOGLE
5-28-2020
GOOGLE
5-26-2020
GOOGLE
5-23-2020
GOOGLE
5-15-2020
GOOGLE
5-14-2020
GOOGLE
5-12-2020
GOOGLE
4-30-2020
GOOGLE
4-30-2020
GOOGLE
4-30-2020
GOOGLE
4-29-2020
GOOGLE
4-27-2020
GOOGLE
3-30-2020
GOOGLE
3-13-2020
GOOGLE
3-13-2020
GOOGLE
3-13-2020
GOOGLE
3-13-2020
GOOGLE
3-11-2020
GOOGLE
3-5-2020
GOOGLE
3-3-2020
GOOGLE
3-3-2020
GOOGLE
2-22-2020
GOOGLE
2-21-2020
GOOGLE
2-12-2020
Read More